General Rules
Information for Members
We operate under a few guidelines for the safety of all our members
Membership Cards

Membership Cards MUST be presented upon entrance to the Club. If you do not have your cards, kindly let the receptionist know and your name can be looked up.

Hours

Daily Hours: 12pm-8pm.
Access to the Club is dependent on membership level.

Guest Info

Guests must pay the required fee regardless of whether or not they are using the pool.
$10/per person on Weekdays
$15 per person on Weekends or a pack of 5 weekend guest passes for $60.

Badges

Children need to pass a badge test to use the pools by themselves.

Big Slide

The "Big Slide" is only for persons aged 16 and under and those with a Blue Badge.

Food & Drinks

The Gator Grille is open daily from noon-7pm. Hours may vary during inclement weather or low member attendance. Outside food may also be brought into the club! ABSOLUTELY NO ALCOHOL OR GLASS PERMITTED

Adult Swim

Adult swim happens at the top of every hour for twenty minutes. On weekday afternoons, when camp is in session, lanes 1-3 are dedicated "adult swim" lanes. A complete schedule is posted at the swim club.

Walk

Please walk, don't run around the pool deck area.
Follow the Rules
All Club/Pool rules are in the best interests of everyone's safety; repeated noncompliance with a Club rule will be taken very seriously.
Questions About Badges?
Badges Information
No Badge

Swimmers without a badge must be accompanied by a parent and are restricted to the three-foot section of the pool. Swimmers without a badge who are wearing a lifejacket may go anywhere in the main pool (except the diving well), but must be accompanied by an adult. Lifejackets MUST be US Coast Guard Approved

Blue Badge

Enables a swimmer to go anywhere they'd like in the main pool and upper pool without a parent. These swimmers may use both slides and the diving board.
Test: four laps of the pool (no doggie paddle) with a 10-second break in between each lap; two minutes of treading water in the deep end.

Red Badge

Enables a swimmer to go anywhere they'd like in the main pool or upper pool, without a parent. They CANNOT use the Big Slide or diving board. The upper pool's slide may be used.
Test: two laps of the pool (no doggie paddle) with a 10-second break in between each lap; one minute of treading water.
How do I get a badge?
Badge Tests
Badge tests are done during the Adult Swim only. Decisions about passing badge tests are FINAL. It is VERY COMMON for a child to try several times before passing the test.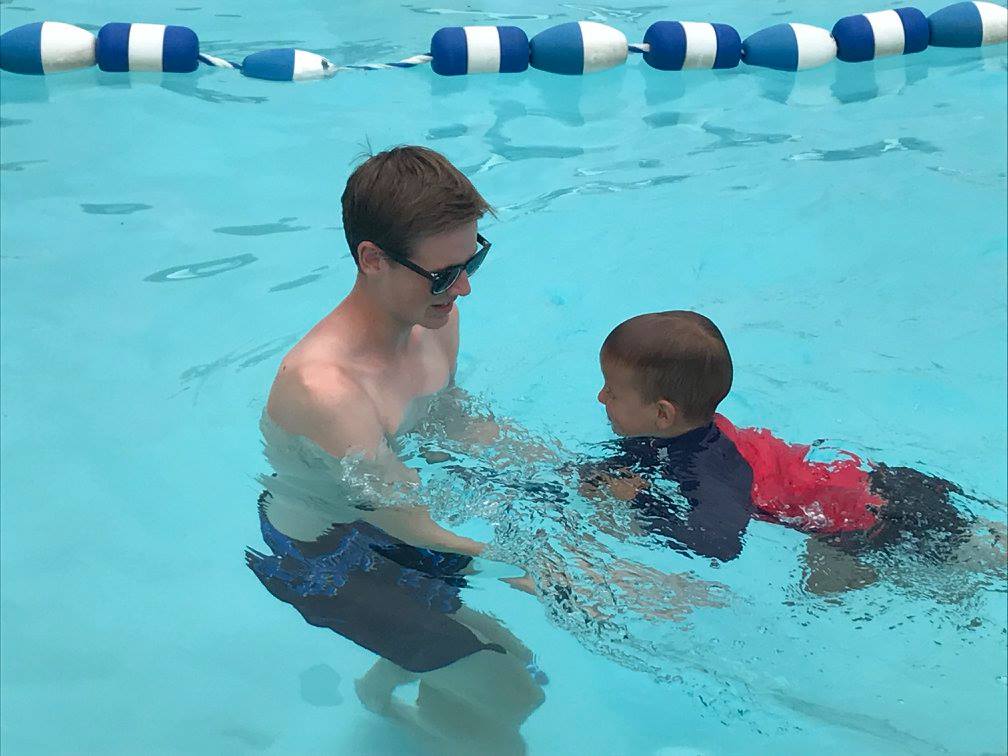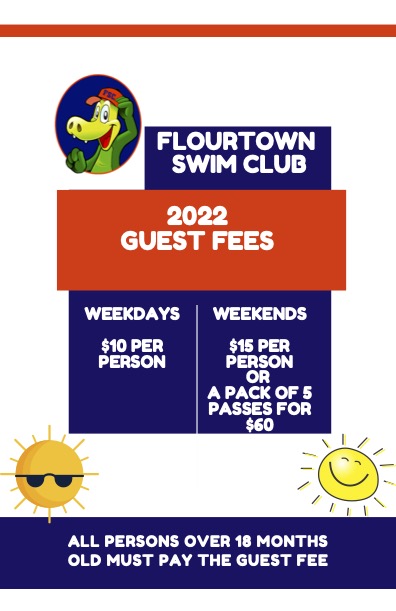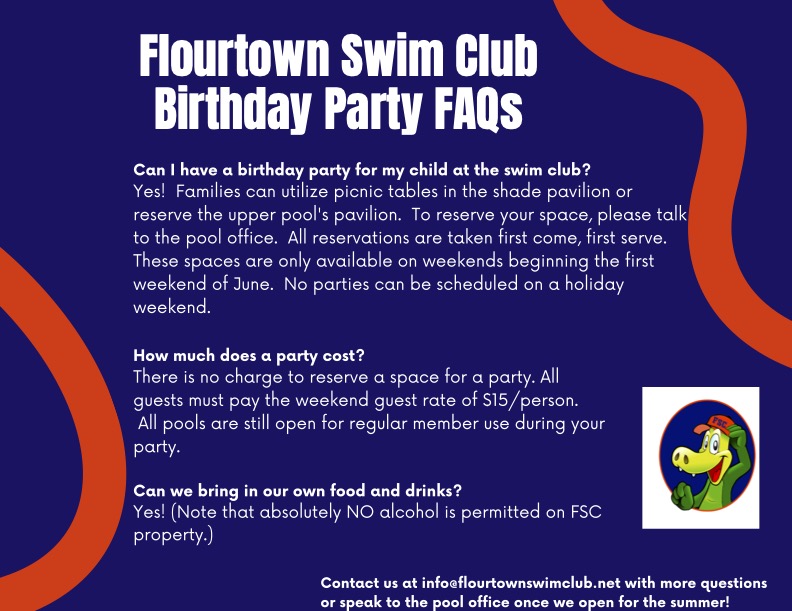 Check out our FAQ
Guest Policies
A guest is defined as someone who stays at the Club for longer than 20 minutes with a paying member.
What if it is bad weather and I paid for a guest?
In the event of inclement weather, refunds or complimentary guest passes will be issued if a guest has been at the Club for two hours or less.
Can I have a birthday party at FSC?
Yes! Members may use the Upper Pool's Pavilion or have picnic tables reserved for a party. Please note that the pool is still open for regular member use. All guests, whether they are swimming or not, MUST pay the applicable guest fee. To book a birthday party during the season, please speak to the Pool Office. Reservations are taken on a first-come, first serve basis.
What if I have a large number of guests? Is there a discount?
FSC sells guest passes in packs of 10 for $80. It's a great deal for the weekend!
Can I have a party/rent FSC?
FSC doesn't allow members or nonmembers to rent out the facility during the official season (any day the Club is open for members). There is limited availability for a party or event prior to Memorial Day Weekend and the Club opening full-time. Contact info@flourtownswimclub.net or call (215) 836-4627 for information.
Do You Have Any Question?